Welcome to July…
And your Friday Videos, of course.
All set? All set!!
"My heart belongs to San Francisco — but that doesn't mean I can't have a love affair on the side. This is a San Franciscan's perspective of the people and place that make New York City."
I like it.
» Floating Garden – Saltwork by Motoi Yamamoto
"On February 18, 2013, Japanese installation artist Motoi Yamamoto began work on a large-scale saltwork on the floor of the Morrison Atrium of Mint Museum Uptown. This time-lapse film documents the creation of "Floating Garden" and the community dismantling ceremony on Sunday, March 3, 2013."
One of the most intricate artworks I think I've ever seen.
Much more detail here.
Beautiful.
» Tony Hawk's Final Ride On His Very First Skateboard
"Before sending my first skateboard to forever live at Smithsonian's National Museum of American History, I rode it one last time. Bearings that are nearly 40 years old are pretty slow, but at least it stayed in one piece." — Tony Hawk
» Travis 'Moving' – Directors Cut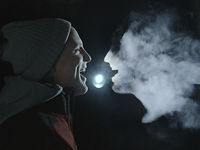 "All visuals captured in camera by back projecting the animated story into the breaths of the band."
I like.
Bonus Video:
"Short docu with matching music and no talking about Dutch glass production in the 50's. From Bert Haanstra.
Fun fact: this also won the Best Short Documentary Oscar in 1959.
Happy, Happy Friday everybody.
ad